Regular price
$45.00 USD
Sale price
$45.00 USD
Unit price
per
Sale
Sold out
FULL SATISFACTION GUARANTEED!!
Crystal Clear Casting Epoxy Resin:
Suitable for most crafts and hobby projects such as making Geodes, Agate Coasters, Jewelry Casting, Laminating Canvas Painting etc. It comes in two parts - Resin & Hardener. 
Note: Make sure to store the epoxy resin jugs away from direct sunlight at room temperature around 20 to 22 deg C. Keep your project at room temperature so that the project surface is not too cold before pouring epoxy on it.
Features:
Thickest - more viscous (holds well) than other variants
Crystal clear, high gloss and transparent, yellow resistant
Automatic leveling and anti-foaming
Low set-to-touch and cure time
Goes well with pigments of all colors
Non toxic, low odor and low VOC
High hardness after drying
Glossy like mirror

Technical Specifications:
Ratio A to B: 1:1
Pot Life: 30 min
Coverage: 32 oz kit will cover 6 to 8 sq ft area with 1/16" thick
Set to touch time: 12-14 hrs
Curing Time: 20 - 24 hrs (varies based on ambient temp / humidity / thickness)
Surface ready to use time: 72 hrs

Directions:
Step 1: Wear safety glasses and gloves. Measure equal parts of part A and  B by volume or weight. Mix thoroughly.

Step 2: On porous objects such as made out of wood, paint a seal coat of same epoxy mixture of A & B first to seal any pores to prevent air bubbles from forming.

Step 3: Make sure the surface area is horizontal to the ground and leveled. Pour the epoxy on the surface all the way through the area. This epoxy self levels itself so no need to move it around with any tools. Let the epoxy fall over the edges and coat the vertical edges. The liquid epoxy that falls over the edges will form bumps and there is no need to worry about that. These can be sanded off once the epoxy is dried and cured.

Step 4: If multiple layers are to be applied, make sure that each layer is less than 1/4" thick and maintain a gap of 4-6 hours between each layer.

Step 5: Pop air bubbles using a heat gun or plumber torch.

Step 6: Leave the surface for epoxy curing
Example Video: Source YouTube
Share
View full details
Customer Reviews
100
reviewers would recommend this product
Write a Review
12/20/2022
Ioulia D.

Canada
I recommend this product
Resin for crystals
I like the product, very good quality, no bubbles, easy to use. But I found out that 1:1 resin curling longer then 1:3, should be opposite. Some of crystals still not 100% hard after 5 days even 10, when 1:3 they hard in 24-48 houres, I did it few times and I did mixed correct...
06/01/2022
Dajla B.

Canada
I recommend this product
Excellent
Really good for the people who like to play around with resin and make multiple things at the same time.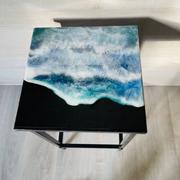 12/11/2020
Justin A.

Canada
I recommend this product
1:1 epoxy
I use this product for filling voids in live edge furniture. It comes out very clear and it flows very nice. It takes pigments and ink colours nicely as well.