Regular price
$17.00 USD
Sale price
$19.00 USD
Unit price
per
Sale
Sold out
100% PURE TUNG OIL
Pure Tung oil has been trusted for thousands of years as a waterproofing agent and wood finish, and when it dries it forms a protective layer over top of the surface to which it's been applied. Tung oil can be used over paint or as a wood finishing oil, making it great for projects like furniture, decks, cabinetry, floors, doors, bowls (Tung oil is FDA approved as food safe), counters, and cutting boards, and can even be used on brick and concrete.
The Tung Oil is a 100% pure oil meaning it comes without any heavy metals, additives, or distillates. Most other oils can be anything from a thinned down varnish to polymerized tung, and most have petroleum distillates added. Ours will not build a gloss finish or heavy finish but will penetrate deeply into the wood to enhance character and water resistance while creating a great wood finish.

This makes our pure tung oil perfect for uses such as wood counter tops, bowls, butcher blocks, cutting boards, chopping blocks, outdoor furniture, decks, wood siding, wood flooring, concrete, brick and just about any porous surface that needs an environmentally friendly product.

We guarantee our Tung Oil is ASTM Quality Tested to be light in color with the highest amount of reactive sites to ensure drying and a great wood finish. We use only the freshest, highest quality product. All of our oils are "fresh" pumped from a drum just before shipping.

Keep in mind, it's a natural "Honey" color. Cheaper grades are generally off-color or greenish. Other companies will not talk about the color because it's their quality does not uphold. But color is important, you are using it to finish your wood so it makes sense that the way it looks plays a big part in the finish of your product.

ADVANTAGES
Zero VOC's
All Natural means "Green"
Freshness Guaranteed (fresh pumped daily)!
Best Available, Grade 1 yellow
Naturally polymerizing finish
Cures by oxidation, not evaporation
Does not form a glossy finish no matter the number of coats
Form a flexible waterproof finish
Resists abrasion and acids
Does not blister and peel (properly applied)
Does not mold like linseed oil
Long shelf life (will last for years, properly sealed)
Does not darken with time like linseed oil
Concentrated (thin one to one, doubles the coverage)
Combined with "Citrus Solvent" makes an all-natural finish
FDA approved for food contact
Does not go rancid
7 to 10 days partial cure, 15 to 30 days full cure

COVERAGE
8 oz. covers 25 sq. feet
16 oz. covers 50 sq. feet
32 oz. covers 100 sq. feet
Gallon covers 400 sq. feet
Example: One Gallon would cover 400 sq. feet one time.
This is coverage for the oil only and not diluted with any Citrus Solvent, Pine Oil, or any other thinner. Thinning the oil will increase its coverage as well as enhance is saturation abilities.
DARK TUNG OIL
It is similar to our regular Tung oil, except that it has a natural and non-toxic resin added to the mix that brings depth to a wood grain. It also creates a dark, matte finish that results in a classic aged and antique look. Dark Tung oil has all the same great features as our regular Tung oil, so it's ideal for all the same types of projects.
 HEMP OIL
Hemp Oil dries to a matte finish and will not produce a gloss or even much sheen. Boasting qualities such as food contact safe, hypoallergenic, all natural VOC's, and no need for a solvent to thin the oil. This naturally thin viscosity oil will penetrate porous surfaces well. Use on bare wood, over milk paint, chalk paint, cutting boards, carved utensils, and to revive old wood finishes.
Squeezed from industrial hemp plants. Very light nutty aroma. Dries to a matte finish. Will never produce a gloss or even much sheen.

All natural VOC's and solvent-free drying oil finish. Hemp oil by The Real Milk Paint Co. can be used on bare wood, over milk paint, chalk paint, and to revive old wood finishes. This naturally thin viscosity oil will penetrate well on porous surfaces.

Safe for wood items in kitchens, such as cutting boards, wooden utensils, and countertops. Less durable and not as water resistant as Pure Tung Oil. Great for lightly used items. Takes 7 to 10 days for a partial cure, 15 to 30 for a full cure.

The color of oil can range from a light green to golden yellow depending on weather conditions and time of harvest. Primary advantage over Pure Tung Oil is the viscosity of Hemp Oil in that it requires no thinning with Citrus Solvent. However, it can be thinned with Citrus Solvent if a thinner viscosity is required

Hemp Oil is not reported to cause allergic reactions. However, we recommend that sensitive individuals do their own evaluation.

Some other's are promoting Hemp Oil as a good way to revive leather boots or other leather goods. DON'T DO IT! Because Hemp Oil is a drying oil it will soak into leather and dry. This will cause the leather to crack and prematurely destroy your leather goods. Repeated applications of Hemp Oil to leather will just speed of the destruction. Use oil products made to treat leather. These will protect your leather goods for the long term.
NATURAL CITRUS SOLVENT
Our natural citrus solvent is an environmentally friendly product that can be used as a paint thinner alternative, in place of mineral spirits, and as a degreaser. Our solvent is made from pure orange peel extract and water and doesn't contain the additives or surfactants found in traditional paint thinners.
HALF TUNG OIL AND HALF CITRUS SOLVENT
Before being applied, Tung oil has to be thinned out to ensure the best coverage and penetration. But getting the ratio right can be difficult, which is why we started bottling the perfect Tung oil and natural citrus solvent mixture for you. This blend is ideal for:
Coating, sealing and protecting wood from wear and water
Bringing out wood's natural grain
Deepening the natural color of wood
OUTDOOR DEFENSE OIL
Outdoor Defense Oil is a great Non-Toxic way to finish your outdoor projects. It's made with 100% Pure Tung Oil, Pine Oil, and Zinc. We all know about Zinc in sunburn skin care products. The zinc helps to keep mold and mildew as well as act as a UV inhibitor. Use as an outdoor wood finish or on concrete, stone and any absorbent material. This also works great as a cedar garden bed oil and it provides deck protection.  Generally, 2 to 4 coats give moderate protection. More coats only if the wood will accept it. The Outdoor Defense Oil can build on a surface and my not be super smooth to the touch, but this will only happen if the oil is over applied. Will provide a matte finish. Do not apply directly under the hot sun, as the oil will polymerize very fast and leave a frosty, rubbery surface. Does not need to be thinned with solvent . Ready to be used right from the bottle. Hang rags outside separately to dry before disposing.
DETAILS
Shake well before use
Environmentally friendly oil that provides a warm glow to your outdoor furniture, concrete, stone, brick, wood, exteriors, deck protection,  siding….and well you name it.
Can be mixed with any other of our Tung Oil Products (i.e. Pure Tung Oil, Dark Tung Oil, Dark Half, Half & Half)
CAUTION!!
Use ventilation until solvent is evaporated from finish, about 2-4 hours
NOTE: not for use over oil base sealer type stains or other finishes. Store in moderate temperature.
Hang rags separately outside to dry before disposing.
Share
View full details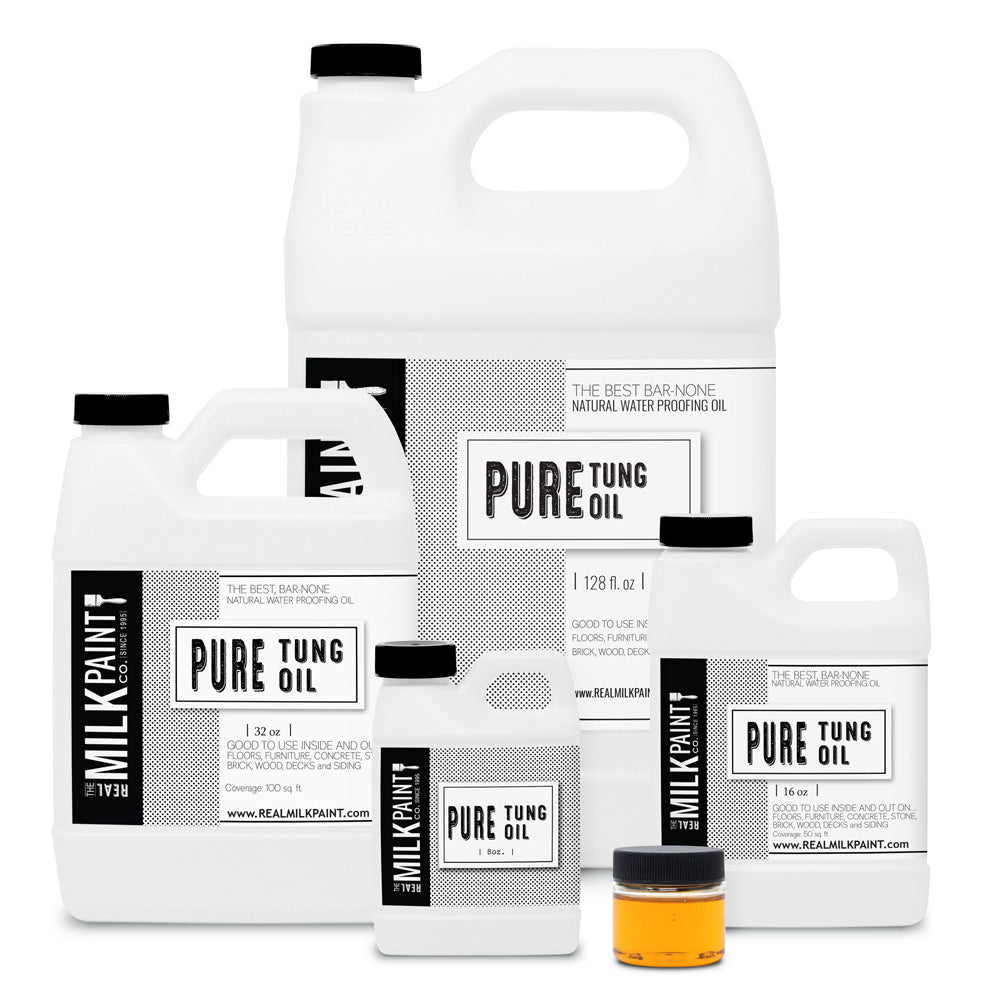 Customer Reviews
02/18/2021
Teo B.

Canada
I recommend this product
Great stuff!
Great for woodturnings!